Rick's Stamp Web - USCA : US & Canada Program
I like and collect stamps from USA and Canada. In the past I've made quite good experiences with collectors from those countries (see also samples in SSSP Section). But there is on thing I ask you to take special care of ...
(besides FDCs) I can only use US or Canadian stamps with clean round non-wavy cancellations !!!
...I do NOT have any use for material other than that. Please do also not send material in mind (except explicitly asked for).
To make it clear and avoid misunderstandings I have designed some samples below: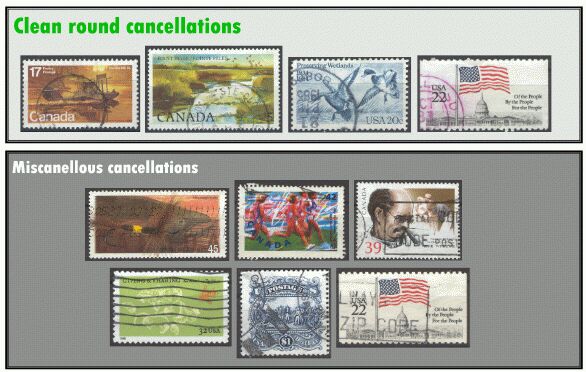 To make it fair - the USCA program
I know that clean round cancellations are more scarce in the countries of killer cancellations. On the other hand US or Canadian collectors often are not that focused on cancellations like I might be. So basically speaking I'm offering a kind of value based trade to make it fair for both of us :
For:
Value singles round cancellation:
Value singles miscanellous cancellations:
US / Canada commems clean round cancellation
150% commems common countries w/o Ireland & GB
250% commems (+semipostals if you wish) common countries
US / Canada definitives clean round cancellation
150% defins common countries
250% defins common countries
US / Canada sheets, booklets, FDCs
100% sheets, booklets, FDCs common countries (or stamps see MVB program)
Or in short : if you want same cancellation quality back you get 150% value (excluding Ireland & Great Britain); if you should accept miscanellous cancellations (with or without CTOs) you get 250% back.
On canadian souvenir sheets, block, panes, strips I might also accept a clean rectangular cancellation as seen on the disney sample in SSSP Section.
Remark for collectors from the U.S.: I'm looking for larger quantities in US commems with high denominations. Please throw a look at Position #5-#6 in the MVB Section.